After noticing a lack of affordable healthcare offered in the community, Nadine Singh, founder of Premier Mobile Health Services, decided to fill that void.
"We started the mobile unit as an LLC back in April of 2018," said 47-year-old-Singh. "Then we dissolved from the LLC in September of 2018 and made it a not-for-profit. When I was out on the bus we were charging $50, and the people I was serving couldn't even afford that. I figure if we went to a not-for-profit I'll be able to get some sponsors and apply for grants, which helped to get us to where we are today."
Premier Mobile Health Services which services Lee County has two mobile units. The units are staffed with six medical professionals including a physician resident, paid nurse practitioners and nurse practitioner students from Nova Southeastern University, medical assistants as well as 11 volunteers.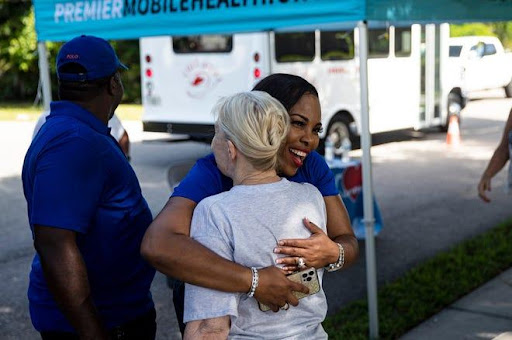 The mobile units offer an array of services including chronic disease management, which includes screenings, check-ups, monitoring, patient education, blood pressure checks, COVID-19 testing, primary care services, HIV and STD testing. 
Singh said the idea to start the mobile health screening service came to her while she was in school. 
"I wrote about the mobile clinic when I was going to school as my final paper in my master's program," said Singh. "I thought it was something that I could do when I retired. When I started working in the hospital in February of 2018 I was called to the emergency room at Physicians Regional to treat a 24-year-old gentleman who was in hypertensive urgency with renal failure. I walked out of his room with tears in my eyes. I went to the computer and started looking to see if I could start a mobile clinic fast. That's when the mobile clinic became a reality."
Premier Mobile Health has a partnership with Florida Department of Health to offer free breast cancer screening for women over 50 and a partnership with Lee County Health to offer at-risk men over 45 free prostate screening. 
"In 2018, three years into being a provider I saw the need to go out and screen people in the community," said Singh. "That's why I do so many of the back-to-school events. You'd be surprised how many young African Americans' go in for dialysis."
Singh, originally from Jamaica, moved to the United States in 1997. 
"I was a high school dropout," said Singh. "I had my daughter when I was young. So when I got to America I had to go back to school to get my GED."
After receiving her General Educational Development diploma Singh went on to receive an associates in art from Broward College in 2005, her associates in science of nursing at Edison State College, now known as Florida South Western State College, in 2007, a bachelors in nursing in 2011 and a masters in nursing in 2015. 
Singh said regarding health, advocating for yourself is key and should be learned at an early age.
"We as parents have to teach our children about their health at an early age," said Singh. "I think it's important to teach kids how to advocate for themselves and how important it is to get (medical) screenings. As they transition into adulthood let them know the importance of continuing to do so."
Singh said there are some near future plans in the works.
"They (patients) can always call us to see where we will be setup," said Singh. "At some point we want to build a robust website where patients can log on and see exactly where the bus is on certain days. We're in need of donations in order to continue our mission."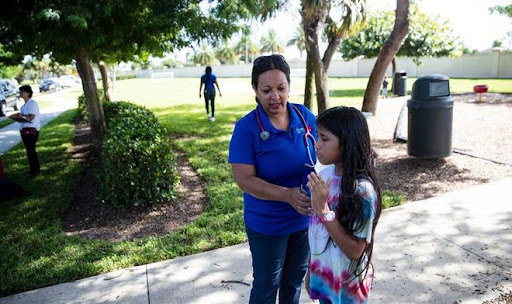 William Glover, senior pastor at Mount Hermon Church in Fort Myers, said Premier Mobile Health Services offers health screenings to people who otherwise wouldn't have access either because they're uninsured or they simply can't get to where the services are being offered. 
"The mobile clinic is a vital resource," said Glover. "She (Singh) came to us four years ago. She was just launching her mobile clinic and had tried locating it on several different properties. But it never generated the type of traffic she needed to become profitable. We're public health advocates. We met and immediately fell in love with her vision. We agreed to allow her to station her clinic on our campus, which is in the heart of the community."